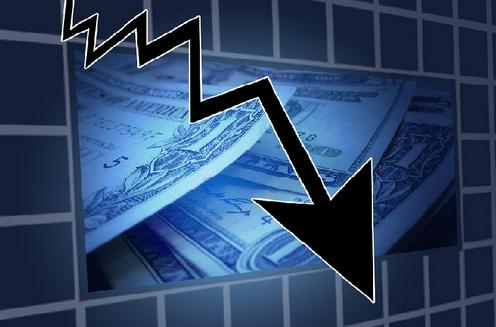 Image from pixabay.com
The current situation in Kazakhstan is likely to lead to the deepest economic crisis in Kazakhstan since the 1990s, according to a new report (in Russian) by consultancy firm KPMG.
According to preliminary forecasts by the IMF, Kazakhstan's GDP will shrink by 2.5% in 2020 (compared to a 4.5% growth in 2019). This would be the first time that the country has shown a negative growth rate since the crises brought about by the collapse of the USSR in 1991 (1991-1996) and the joint "Asian Tigers" and Russian crisis of 1997-1998, the report states.
The authors based their report on a survey of 50 business leaders across various branches of the Kazakh economy. Their research showed that the COVID-19 crisis has had the greatest effect on the air travel, fitness and restaurant industries and non-food retail trade. The air travel sector has been able to partially make up for the collapse in passenger travel by expanding cargo flights, and restaurant and retail businesses have switched to online sales and deliveries, but KPMG's experts forecast significant bankruptcies and branch closures in these sectors, since they are "dominated by small and medium-sized businesses with small reserves". Sectors with a medium risk of bankruptcy include the financial and mining industries, along with agriculture. Low risk sectors include energy, telecoms and pharmaceuticals.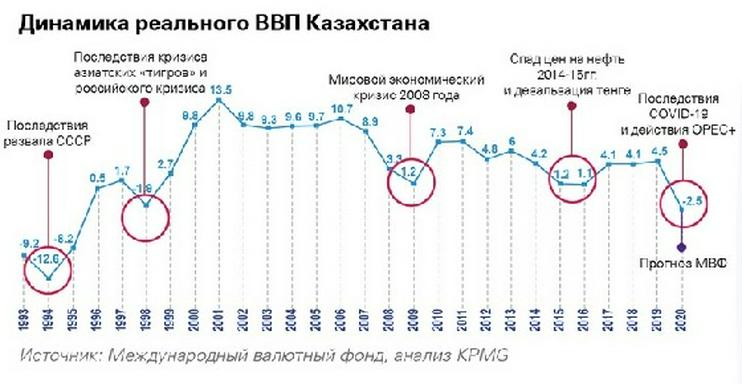 Kazakh GDP chart. From the International Monetary Fund, reproduced in the KPMG report
53% of respondents said that they had already cut back on workers' salaries, generally lowering wages for employees working from home or putting part of their workforce on paid or unpaid leave. Large business leaders feel that the measures introduced by the government so far (above all tax concessions such as the exemption of small and medium businesses in sectors affected by the crisis from payroll taxes for six months and the allocation of funds for low-cost loans) are insufficient and expect further tax concessions, the reimbursement of some expenses, and greater provision of preferential loans.
86% of those surveyed said they do not anticipate a return to pre-crisis conditions for another three or four quarters from now, suggesting the effects of the crisis may also be felt in 2021. Yesterday, Kazakh president Qasym-Zhomart Toqaev stated that the fight against COVID-19 has so far cost Kazakhstan $13 billion.