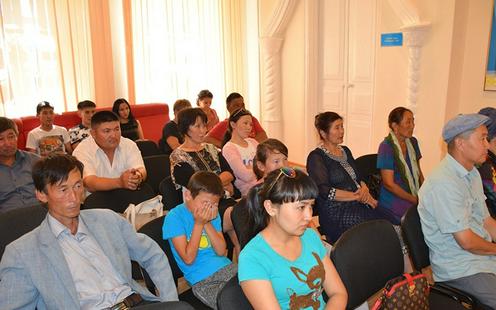 Ethnic Kazakh returnees . Photo from Matritca.kz
The term "oralman", used to refer to ethnic Kazakhs who leave their countries of origin (such as China or Uzbekistan) to take up residence in Kazakhstan, is to be officially replaced by the term "qandas" in Kazakh legal texts. The decision was made today by a plenary session of the Kazakh senate, Kazpravda.kz reports.
In Kazakh, the word "qandash" means "blood relative" (literally "blood-fellow") or "fellow tribesman". The term "oralman" is equivalent to "returnee". Besides the change of terminology, the new amendments will speed up the process of acquiring citizenship for ethnic Kazakhs.
Oralmans are foreign citizens or stateless individuals who are of Kazakh ethnicity and were permanently residing outside of Kazakhstan at the moment the country obtained independence, and who choose to move to Kazakhstan to take up permanent residence. There are at least 4 million ethnic Kazakhs currently living outside of Kazakhstan, the largest number of them being in China (1.8 million) and Uzbekistan (nearly 1 million). Most are descendants of Kazakhs who fled Russian conscription in 1916 or famines in Soviet Kazakhstan in 1919-1922 and 1932-1933. Since 1991, more than one million ethnic Kazakhs have been "repatriated" under a targeted government policy. Some high-profile cases recently have involved ethnic Kazakhs fleeing the persecution of ethnic Turkic Muslims in Xinjiang.
Some returnees have faced problems of adaptation since returning to Kazakhstan, particularly with respect to culture and language. Many are disadvantaged by the widespread use of Russian in professional life in Kazakhstan. Oralmans have the right to special government assistance and a special quota for higher education, something which is often not popular with the local population.
In a Twitter post in September 2019, Kazakh president Kassym-Jomart Tokayev called on people to stop using the term "oralman".