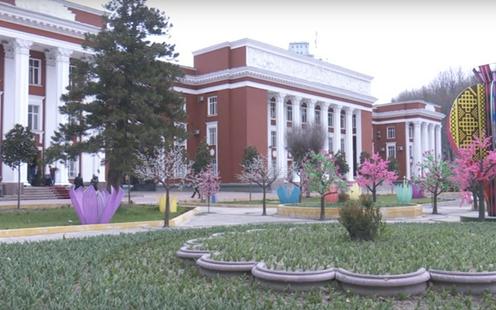 The Tajik parliament building . Still image from a video on Parlament.tj
The Tajik parliament has announced 11 October 2020 as the date for the next presidential elections in the country, Asia-Plus reports (in Russian).
At the session, presided over by the chairman of the upper chamber of parliament, current president Emomali Rahmon's son Rustam Emomali, it was announced that political parties, professional associations, the Sughd and Khatlon regions, the Gorno-Badakhshan Autonomous Region and the city of Dushanbe are eligible to put forward their candidates for presidency.
Not a single election in Tajikistan thus far has been recognised as free and democratic by observers from the OSCE. This year's parliamentary elections were criticised by the organisation as taking place "in a tightly controlled environment", with "systematic infringements on fundamental political rights and freedoms" leaving no space for pluralistic political debate. The Social Democratic Party of Tajikistan, considered the only real opposition force in the country, failed to obtain a single seat.
It is assumed that in the upcoming presidential elections either Emomali Rahmon will himself continue in power or he will seek to effect the first dynastic transfer of power in Central Asia by ensuring that his son Rustam Emomali wins the vote.
Emomali Rahmon has been in power since 1994. On 17 April 2020, Rustam Emomali was elected speaker of the upper chamber of parliament, in principle becoming the second most powerful man in the country. According to the Tajik constitution, in the event of the resignation, death or incapacity of the serving president, his post is to be assumed by the senate speaker, with new elections then to be held within three months. Rustam Emomali is also mayor of the Tajik capital, Dushanbe.
In 2016, a number of amendments were made to the country's constitution, among other things lowering the minimum age for presidential candidates from 35 to 30 (Rustam Emomali is now 32) and granting Emomali Rahmon the title of Leader of the Nation, allowing him to run for president an unlimited number of times.