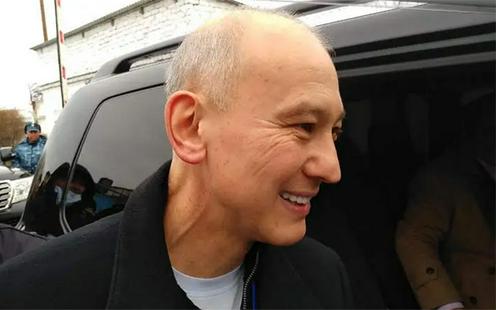 Mukhtar Zhakishev after his release. Photo from Vrk.news
The former head of Kazakhstan's national atomic company Kazatompom, Mukhtar Zhakishev has been released after 11 years in jail, Vlast.kz reports (in Russian).
Zhakishev was arrested in May 2009 and later jailed for 14 years on charges of embezzlement of state property after a parliamentary deputy with the ruling Nur Otan party accused him of selling four of the country's uranium deposits for the negligible sum of $426. Zhakishev's case was one of a whole series of high-profile corruption cases against high-level government officials that shook Kazakhstan in the first half of 2009, leading Reuters at the time to speculate on a possible power struggle between rival clans.
The most important of these charges were those filed against BTA Bank head Mukhtar Ablyazov. A 1990s oligarch who rose to become energy, industry and trade minister, Ablyazov had already served a jail term in 2002 on corruption charges. In 2001, together with a group of other politicians and businessmen, Ablyazov had formed the Democratic Choice of Kazakhstan (DCK) in 2001 to challenge President Nursultan Nazarbayev. In 2003, Ablyazov was released early after promising to stay out of politics and eventually took over as head of BTA bank. Following the 2008 financial crisis and the nationalisation of BTA bank in early 2009, Ablyazov was accused of channelling vast sums of money (by some accounts) out of the country under various front companies. He fled Kazakhstan later that year. $4.2bn in judgements against Ablyazov were upheld by British courts in 2012-2013.
Since fleeing Kazakhstan in 2009, Ablyazov is widely thought to have been bankrolling a number of different opposition groups and oppositional media outlets.
The investigation against Zhakishev alleged that, together with Ablyazov, he set up a number of offshore companies between 2004 and 2006 and gave them rights to exploit several Kazakh uranium deposits without any form of compensation. Zhakishev himself has always denied the charges (according to a 2009 US diplomatic cable released by Wikileaks, Zhakishev believes that Russia ordered his arrest to put a stop to his attempts to increase Kazakh independence in the field of nuclear fuel production).
Zhakishev was met at the gates of the OB-156/144 facility in Semey, where he has been held for the last few years, by his family and around 30 activists shouting "Mukhtar!" and "Alga, Kazakhstan!" (Alga! (Forward!) is the name of a now-defunct opposition group thought to have been funded by Ablyazov).