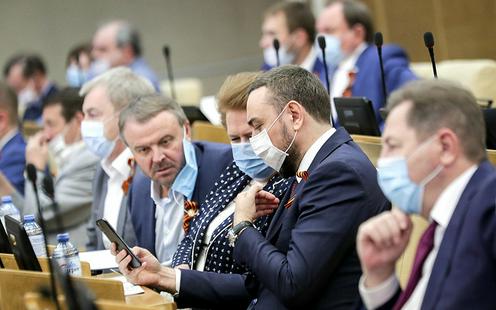 Russian deputies at a session of the State Duma . Photo from duma.gov.ru
An investigation by RFE/RL's Kyrgyz service Azattyk has found a large number of fragments copied from Russian legislation in draft laws drawn up by the Jogorku Kengesh (parliament). The results of the investigation were published on Azattyk's website on 26 June (in Russian).
The outlet's journalists downloaded 1,277 legal texts from the Kyrgyz parliament's website which had been brought for discussion since October 2015. They then removed from the sample all non-pertinent documents such as ombudsmen's reports, budget forecasts, proposals to rename villages and similar. The remaining 805 draft laws were put through an anti-plagiary programme to see whether they contained material from any previously-published sources.
40% of the draft laws were found to contain articles similar to existing articles in Russian laws. One in nine of the bills were more than 40% identical to their Russian equivalents and 17 were practically complete copies. For example, in a draft law drawn up by MP Gulshat Asylbaeva (who is currently the subject of widespread domestic and international critique as the author of a recently-approved controversial law on fake news) entitled "On the protection of children from information harmful for their health and development" («О защите детей от информации, причиняющей вред их здоровью или развитию»), 20 of the text's 22 articles were copied in full. Only country names and a few other terms had been altered. The programme declared the document a 92% plagiary.
In another draft law, Gulshat Asylbaeva forgot to remove the phrase "federal agency", something which Russia of course has but Kyrgyzstan does not.
Asylbaeva, however, was very far from the worst offender. Azattyk writes that almost all parliamentary deputies who propose draft legislation occasionally use copy-pastes from existing Russian laws. The record, however, was set by Janybek Isaev: he copied text segments 66% of the time.
The journalists are sure to point out that such copying is not plagiary in the strict sense of the term since draft laws are not counted as intellectual property. "It is more a matter of the fact Kyrgyzstan is adapting itself to Russian legislation" and that "the authorities are not working independently to draw up laws needed by the Kyrgyz public," the investigation's authors explain. At the same time, former parliamentary deputy Ishenbay Kadyrbekov told Azattyk's journalists that he does not see any particular problem with this. "We are part of the EAEU. Union can only occur if our legal and regulatory acts are identical," he stated.
Journalists and civil society activists have on a number of previous occasions called attention to Kyrgyz draft laws' lack of originality. This is the case not just with respect to actual laws but also other legal acts. At the start of the COVID-19 epidemic, a decree placed on the Kyrgyz government's website announcing the introduction of a state of emergency referred not to "the Kyrgyz Republic" but to the "Kazakh Republic". It was suggested that officials had simply copied an earlier decree by Kazakhstan and forgotten to change the name of the country. The government, however, stated that the error was down to a faulty machine translation from Kyrgyz to Russian. It was claimed that Google Translate sometimes incorrectly translates the official Kyrgyz name for Kyrgyzstan, "Kyrgyz Respublikasy".