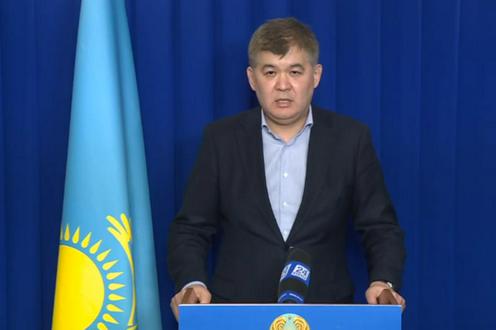 Kazakh health minister Yelzhan Birtanov. Still image from the press conference
Kazakhstan has reported two more cases of the COVID-19 coronavirus today (15 March), bringing the total number to eight. The announcement was made by Health Minister Yelzhan Birtanov at a press conference (in Kazakh).
One of the new cases, born 1959, is the wife of a previously-hospitalised patient who had recently returned, with his wife, from Moscow. The patient's close contacts have all been tested and so far only his wife has returned a positive result. The other is a man born in 1995, who arrived from Seoul on 14 March. All of his fellow passengers on the flight and people he has been in close contact with have been taken into quarantine.
On Friday, Kazakhstan became the first country in Central Asia to officially confirm cases of the virus, after two individuals on separate flights from Germany tested positive. Today, Uzbekistan has also reported its first case, a woman who recently arrived from France. Neither Kyrgyzstan, Tajikistan nor Turkmenistan have yet reported cases, though doubts have long been raised concerning Turkmenistan, which shares an extensive border with heavily-affected Iran.
Kazakhstan's chief medical officer Zhandarbek Bekshin had previously predicted that Kazakhstan would see its first cases in the period between 11 and 15 March. In order to prevent the spread of the virus, it has banned all major public events, closed schools early ahead of the upcoming holidays and ordered universities to switch over to distance learning. Shopping mall cinemas have also been closed and flight restrictions to Europe, Turkey and the UAE introduced, and people have been asked to delay the holding of major celebrations such as weddings.