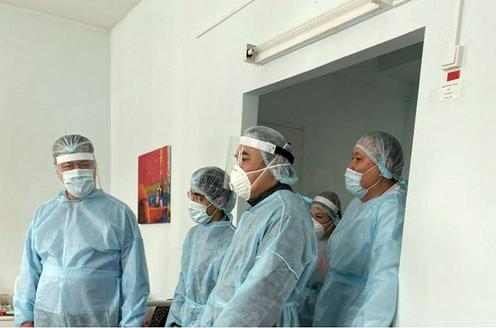 A quarantine centre in Kazakhstan. Photo from Kt.kz
Kazakhstan has confirmed two cases of the COVID-19 coronavirus, the country's health minister Yerlan Birtanov announced at a specially-convened press conference today (in Kazakh).
"After conducting careful tests, we received confirmation. Kazakh citizens who arrived from Germany have returned positive results during testing for the coronavirus," Birtanov said.
He stated that neither of the two individuals displayed any symptoms. Both patients have now been placed in quarantine in a quarantine centre in Almaty.
No further information about the patients was given. It is known only that they are a man and a woman who arrived in Kazakhstan on the 9 and 12 March.
"The first flight on 9 March had 73 passengers on board, and we are currently taking them into isolation. They are not ill and will be held in quarantine for 14 days. The second plane arrived last night and all on board have already been placed in quarantine," the health minister stated.
Birtanov assured journalists that medical organisations in the country are fully ready to care for the sick. "A sufficient number of hospital beds have been prepared, there are sufficient stores of medications and disinfecting agents. Medical staff have undertaken the necessary training and know what to do in accordance with approved diagnostics and treatment methods," he added.
On 11 March, the World Health Organisation declared the COVID-19 coronavirus outbreak, which started in China before spreading to other countries, a pandemic. Kazakhstan's chief medical officer, Zhandarbek Bekshin, recently forecast that the country could expect to see its first cases somewhere between 11 and 16 March.
Due to the risk of spreading the virus, Kazakhstan has already cancelled all major public events and closed schools early ahead of the upcoming holidays. Universities are to switch to distance learning. The authorities have also closed cinemas in shopping centres, restricted air travel to and from Europe, Turkey and the UAE, banned state officials from trips abroad and asked the public to delay weddings and other major celebrations.
The two cases in Kazakhstan are the first officially confirmed cases of the coronavirus in Central Asia.