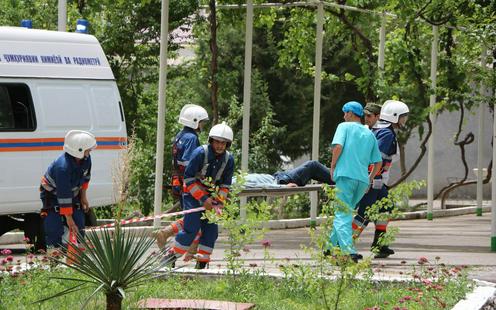 Counter-terrorism training exercises in Dushanbe. Photo from cisatc.org
Over the course of 2019, law enforcement officers in Tajikistan arrested 161 members of terrorist organisations, Avesta reports (in Russian), citing the country's internal affairs minister Ramazon Rahimzoda.
According to Rahimzoda, 1,211 terrorism-related offences were registered by the ministry of internal affairs in 2019. Two acts of terrorism were carried out on the country's territory last year, and a further two attacks were averted. Police officers confiscated 665 weapons, including 65 Kalashnikov automatic rifles.
The head of the internal affairs ministry stated that Tajik law enforcement agencies had succeeded in securing the return to the country of 218 Tajik citizens who had participated in military combat abroad. In total, he said, more than a thousand Tajik citizens were killed in military conflicts in three foreign countries.
In 2018, the interior ministry of Tajikistan reported 873 crimes of a terrorist or extremist nature. 298 members of extremist organisations were arrested in the course of counter-terrorism operations.