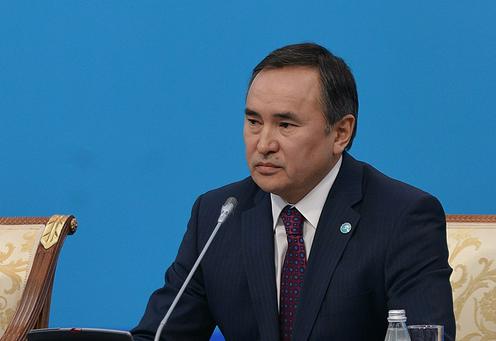 Askar Myrzakhmetov. Photo from Matritca.kz
Kazakh president Kassym-Jomart Tokayev has dismissed the akim (governor) of Jambyl region, Askar Myrzakhmetov, following the mass violence in Dungan settlements in the region, the head of state's press office reports (in Russian).
The governor's dismissal comes after the sacking of a number of other officials in the region. Tokayev earlier ordered that Jambyl region's deputy head of social affairs, Slushash Kurmanbekova, and the head of Korday district, Bolatbek Batole, be relieved of their duties "for serious dereliction of duty".
Also removed from their posts were the head of Jambyl regional police department, Arman Orazaliyev, and the head of Korday district police department, Azamat Aikhimbekov. Tokayev had earlier promised to punish those who, "aided by the acquiescence of state employees", were responsible for the bloodshed.
On 10 February, Deputy Prime Minister Berdybek Saparbayev announced that 25 criminal cases had been opened in relation to the disturbances. Investigations are underway into murder, mass rioting (and exhortation to rioting), assaulting state officials, destruction of property, and illegal possession and preparation of weapons.
The conflict in the Korday district of Jambyl region – in an area with a large population of the country's Dungan minority – erupted in the afternoon of 7 February. According to the official government version, the cause of the conflict was a roadside argument that developed into a fight. By the evening, as local resident and chairman of the Dungan Association of Kazakhstan Husei Daurov told the media, groups of people began arriving the main Dungan settlement of Masanchi and started attacking local residents and setting houses and vehicles on fire.
10 people were killed in the rioting, and more than 170 others required medical attention (according to the latest information on 10 February, 43 people remain in hospital). More than 30 residential buildings and stores suffered extensive damage and dozens of vehicles were destroyed. Many residents of villages targeted in the rioting fled into neighbouring Kyrgyzstan. Later, they began returning to their homes. The authorities promised aid to the victims and pledged to rebuild the destroyed buildings.