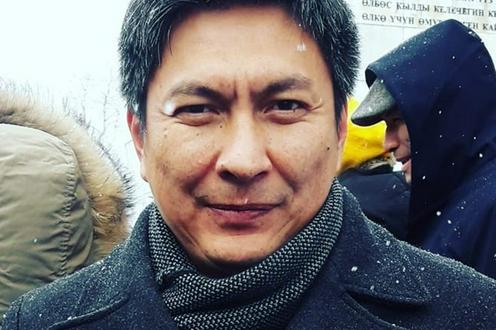 Bolot Temirov. Photo from his personal Facebook page
Four people have been arrested in Kyrgyzstan, suspected of carrying out the recent attack on website Factcheck.kg's chief editor Bolot Temirov, reports the Kyrgyz news site 24.kg (in Russian).
All four suspects are between 25 and 27 years old and come from the Jalalabad region of Kyrgyzstan.
The attack on Temirov took place around lunchtime on 9 January. Three men beat up the journalist near the news site's office in Bishkek and took his phone, leading to the opening of a theft investigation by police.
In December, Factcheck.kg published an investigation into the cost of clothing and jewellery worn by the wife of the former deputy head of the State Customs Service Rayimbek Matraimov. Prior to this, the Kyrgyz news sites Azattyk (Radio Liberty's Kyrgyz website) and Kloop, together with the international organisation OCCRP (Organized Crime and Corruption Reporting Project), released a number of rather more serious reports, in which the Matraimov family was accused of acting to protect a vast smuggling ring and siphoning funds abroad. The family took the publications involved to court.
Temirov stated that he believes the attack was directly related to Factcheck.kg joining the wave of investigations into the Matraimovs' affairs. The journalist added that he fears nothing and is ready to continue working to expose corruption. Following this, Factcheck.kg published an investigation into the property of the wife of the family's head, the Jogorku Kenesh (parliament) deputy Iskender Matraimov. The deputy swiftly responded that the journalists had based their report on inaccurate data from the country's Justice Ministry.