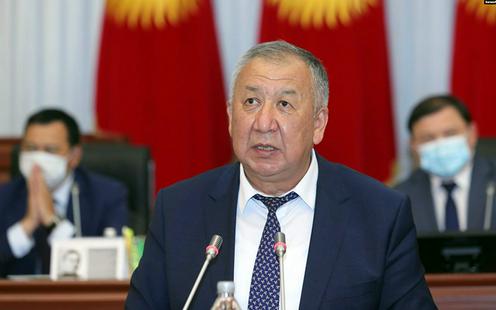 Kubatbek Boronov . Photo from Kenesh.kg
Kyrgyzstan's Jogorku Kengesh (parliament) has approved the composition of the country's new government, 24.kg reports (in Russian).
Parliament approved the nomination of Kubatbek Boronov as new prime minister. Boronov previously occupied the post of first deputy prime minister. Other than this, the composition of the government has hardly changed. Only the head of the State Committee for Information Technologies and Communications, Dastan Dogoev, has been replaced, with Amazbek Ismailov taking over. But Dogoev resigned from the post back on 10 June, announcing that he planned to study at Harvard.
Former prime minister Mukhammedkaliy Abylgaziev stepped down from the position on 15 June. Prior to this he had himself chosen to go on leave in connection with accusations levelled by a group of parliamentary deputies that he had participated in the illegal sale of airwaves. At the time, Abylgaziev said that he had had no involvement in the crime but wanted to avoid suspicions of using his office to exert pressure on the investigation. He then decided that this was not sufficient and took the decision to resign.
Abylgaziev had been prime minister of Kyrgyzstan since 2018 (his predecessor, Sapar Isakov, was recently sentenced to 18 years in jail on corruption charges). Boronov became first deputy prime minister under Abylgaziev. Before this he had headed the Ministry of Emergency Situations since 2011. He occupied a number of other positions in this same ministry starting in 2003, but it is the only government agency in which he has worked.