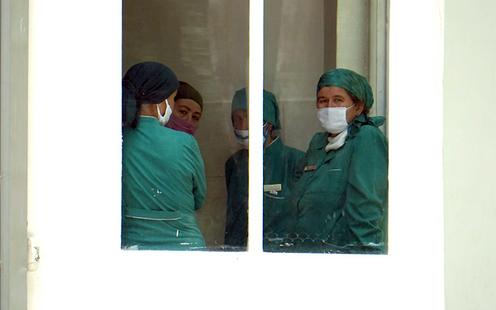 A hospital in Tajikistan . Photo from Asiaplustj.info
A second mission from the World Health Organisation will soon be dispatched to Tajikistan, it was announced earlier this week at a press conference of the WHO's regional office for Europe. Mission member Oleg Starazhenko stressed that, in the absence of a vaccine, the fight against COVID-19 was a long-term one and that the organisation was ready to provide Tajikistan with all the assistance that it and its partners can mobilise.
The decision comes as the country has reported declining COVID-19 infections for the last two weeks. At the end of May, Tajik health minister Jaloliddin Abdullozoda told news agency SSSR, that the country had already passed its infections peak. The same point has been consistently repeated on state television over the last few days.
Tajikistan, of course, only acknowledged its first cases of COVID-19 just over a month ago, the day before the arrival of the WHO's first mission. While it is not impossible that the country has indeed reached its infection peak – many other countries have taken around a month to reach their highest infection and/or death figures – official figures suggest Tajikistan has gotten off extremely lightly with COVID-19. To date, the country has recorded 4,289 infections and 48 deaths.
The main issue is of course testing. Testing levels in the country remain extremely low. While Tajikistan is one of about 20 countries around the world for whom testing rates are not available on global coronavirus monitor worldometers.info (alongside China and failed states like Syria), on 29 May deputy health minister Mirhamuddin Kamolzoda told Sputnik that a total of 17,000 tests had been conducted, equating to testing rates of less around 1,900 tests per million population. This is far behind other Central Asian nations (excluding Turkmenistan, which continues to maintain that the coronavirus is not present in the country), and puts Tajikistan in 156th place globally.
Until recently, the country only had one laboratory capable of processing COVID-19 tests. At the end of May, however, health minister Abdullozoda said that there were already five such laboratories operating in Dushanbe, and similar facilities had also been established in Khujand, Bokhtar and Kulob.
There are also suspicions that the authorities are either hiding cases or at the very least making little effort to detect them. Confidence in the Tajik authorities' sincerity has not been helped by the fact that they spent much of April dismissing increasing reports of pneumonia cases as the result of "unfavourable weather conditions", only to finally acknowledge the presence of the virus in the country the day before the WHO mission's arrival. Things do not seem to have changed. Earlier today, RFE/RL's Tajik service Ozodi published a report in which the outlet claims that nearly all of the patients it managed to interview in three Tajik towns (their number is not mentioned, only the word "several" is used) said that they had been given the diagnosis "double pneumonia" and that they had either not taken coronavirus tests or had not been given the results.
Even where a COVID-19 diagnosis is recorded, unlike in Europe and the US (but in line with Russia and elsewhere in Central Asia), Tajikistan is counting only deaths where the coronavirus is adjudged to have been the main cause of death, a practice which may further facilitate the manipulation of statistics. On 29 May, Tajik deputy health minister Mirhamuddin Kamolzoda confirmed to Sputnik that "there are indeed cases where COVID-19 patients have died from accompanying illnesses". "We are currently gathering together these cases," Kamolzoda said, "and we will soon update the statistics in line with the new recommendations from the WHO." What results this will lead to remain to be seen, but a similar review in Kazakhstan led to the announcement of only 37 "extra" deaths (still not included in official statistics).
More charitable explanations of Tajikistan's low statistics would include the incredibly low median age of the population – just over 22, compared to over 47 in Italy – the country's extremely low urbanisation (27% in 2018 compared to 83% in the UK), and what might, given the late official appearance of the virus, perhaps be called more "favourable weather conditions".
Certain anti-epidemiological measures have been taken in Tajikistan, but they have been both slower and far less complete than in neighbouring Kazakhstan, Uzbekistan and Kyrgyzstan. Besides border closures and the quarantining of returning citizens, schools and universities have been closed for several weeks and half of state employees in Dushanbe are reported to have been put on unpaid leave from 21 May. Non-food marketplaces have been closed since 30 April, and this has since been extended until 15 June, along with (since 12 May) all beauty salons, hairdressers, car washes and mobile phone stores. Restaurants and canteens, however, remain open, though many have closed due to a decline in customers. Public transport also remains in operation, though passengers are to wear face masks and maintain a social distance — something which is less than easy in the cramped minibuses that are the country's main mode of public transport. No obligatory shelter in place orders have been issued as in Tajikistan's neighbours.
Meanwhile, in the same article referred to above, Ozodi reports that in spite of official claims that treatment for COVID-19 is free, many patients are having to either fully or partly cover treatment costs themselves. This jars significantly with state TV news broadcasts, which have been devoting much of their airtime over the last few weeks to images of copious supplies of medication, variously donated (via the direct efforts of Emomali Rahmon and his son Rustam Emomali, newsreaders are careful to stress) by countries such as India and China or distributed as "gifts" by the "vast humanitarian initiatives and unprecedented philanthropic efforts" of the president, and occasionally some key businessmen. Any mention of these substances' precise role in treating COVID-19 seems to be intentionally obfuscating, while some of the medication is clearly destined for other conditions (such as HIV) or of unproven effect (hydroxychloroquine).
That state media coverage is designed above all to have a placebo effect is also suggested by the other dominating theme of official Tajik news broadcasts: large-scale public disinfection work. While many experts have stated that such measures are more likely to be aimed at giving the impression that the authorities are acting than have any real effect (and the WHO has even cautioned against the practice) the Tajik authorities are clearly showing their determination not to leave any shrubbery or wheelie bins unbleached. Other countries in Central Asia and elsewhere have also been systematically disinfecting streets and other public places, but the extent to which such efforts have been covered at length on an almost daily basis on Tajik TV is without any kind of parallel. Here is one of many examples:
Disinfection work in Tajikistan. Video from state TV news
On several occasions in recent weeks, the state news broadcast has invoked Ibn Sina's dictum that "Illusion is half of sickness, calmness is half the cure and patience is the first step of healing" to urge people to stay calm. Panicking, the report says helpful, can lead to many serious health issues and, ultimately, death.
In other coronavirus news from Tajikistan today, it was announced that service sector businesses are to be given a tax holiday until 1 September, and vulnerable groups in society are to be given a one-off payment of $40 (equivalent to the country's minimum wage).