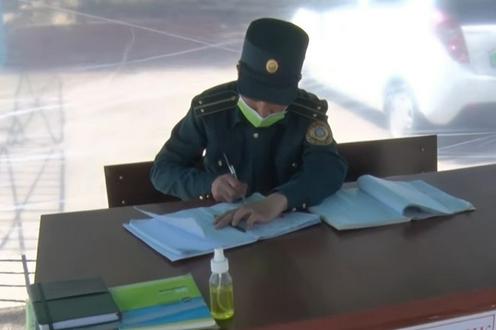 A lockdown checkpoint in Tashkent. Still image from Nuz.uz
The Uzbek government's special COVID-19 commission has extended the current lockdown in the country until 1 June and set dates for the resumption of domestic rail and flight travel and the abolition of permit stickers for private car use. The announcement was made on the official Telegram channel of the Uzbek health ministry Koronavirus Info (in Uzbek).
From 18 May, flights are to be permitted to and from Tashkent and the cities of Nukus, Urgench and Termez. The high-speed Afrosiyob train will also run from Tashkent to Navoiy, Bukhara and Qarshi, and rail travel will resume to and from the Fergana valley.
As previously reported, the Uzbek government has divided the country's cities and districts into red, yellow and green "zones" depending on the level of spread of COVID-19, with only the highest category, red, covering areas where new cases have been reported in the previous two weeks. Lockdown measures vary according to the colour of the zone. In Tashkent and other regions designated as yellow zones, people will now be allowed to drive their cars without permit stickers between 6 am and 10 pm. Other lockdown measures relevant to yellow zones will remain in place.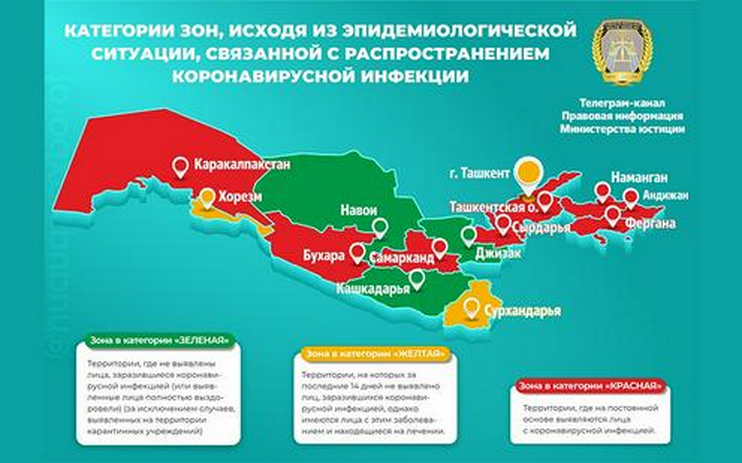 Map of Uzbekistan showing different colour zones, from the Telegram channel @pravoinf
Residents of green zones are allowed to use their vehicles at any time of the day, while in red zones private car use is only permitted between 7 am and 10 am and from 5 pm to 8 pm to go to work, to buy food, or to go to a pharmacy or a hospital.
After reporting its first case two months ago, to date Uzbekistan has confirmed 2,652 COVID-19 infections and 11 deaths. Like Kazakhstan (recently praised by the WHO) and Kyrgyzstan, which have also had relatively low caseloads, Uzbekistan appears to have so far avoided the mass spread of the virus by quickly closing its borders and introducing sweeping lockdowns, quarantining thousands of individuals and gradually stepping up testing. Also like Kazakhstan and Kyrgyzstan, the country has begun to cautiously ease lockdown measures since the end of April owing to the satisfactory epidemiological situation. Construction and agricultural work, for example, has resumed, and parents are allowed to take their children for walks near to their homes. In yellow and green zones service sector establishments such as hairdressers, shopping centres and many stores and offices have been allowed to reopen.
An average of 40 new cases per day are still being reported since the start of May. Areas where new cases are detected are automatically moved into the red category and lockdown measures there extended.