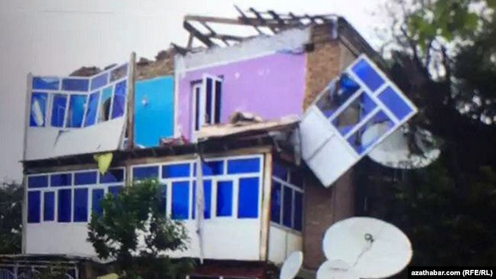 Damage from the hurricane . Photo by RFE/RL
In a telephone call with his Uzbek counterpart Shavkat Mirziyoyev, Turkmen president Gurbanguly Berdymukhamedov has offered his country's assistance in rebuilding the flood-hit areas of the northern Syrdaryo region following the recent dam burst at the Sardoba reservoir.
Berdymukhamedov's offer comes shortly after Turkmenistan announced the dispatch of humanitarian aid, including building materials, to Russia to help fight the coronavirus, as well as to Afghanistan.
According to state news agency TDH, in his talk with Mirziyoyev, Berdymukhamedov "emphasised Turkmenistan's willingness to provide the afflicted districts with the necessary aid, to send equipment and personnel, and to offer all possible assistance in rebuilding local infrastructure".
The Turkmen government's international largesse sits rather uncomfortably with reports that the country's authorities are only now beginning to respond to the aftermath of a hurricane in the eastern Lebap region on 27 April which killed at least 30 people and caused extensive damage to homes and buildings.


Independent media outlets claim that the police closed off roads into region and warned the local population not to expect any help from the government, arresting those found with photos of destruction on their mobile phones. Foreign-based news outlet Turkmen.News's correspondent reported on 5 May that locals had still not been provided with any assistance. Only a week after the event was the disaster covered by the official media on a regional level, and two days later national media reported the beginning of reconstruction work, with no mention made of any casualties. Meanwhile, life has been rendered even more difficult for local residents by subsequent torrential rains and flooding.
Given the current deficit of construction materials in the country, the authorities' readiness to send such materials to Russia and Uzbekistan will be extra galling to local residents in Lebap.
After passing through Turkmenistan, the hurricane caused significant damage in and around Bukhara in southern Uzbekistan. There, however, state media have been enthusiastically reporting on President Mirziyoyev's visit to the region and government-led reconstruction efforts.