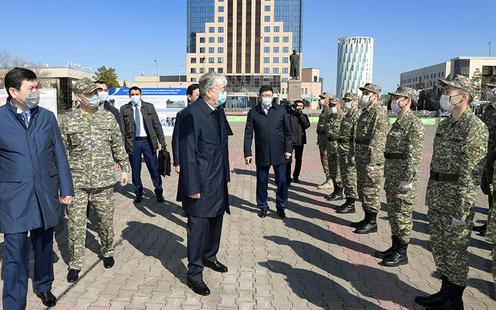 Qasym-Zhomart Toqaev meeting with soldiers overseeing the lockdown. Photo by the press office of the Akorda
The powers of the president of Kazakhstan during the present national state of emergency are to be extended. The relevant legal amendment was ratified by a session of the country's Mazhilis (lower chamber of parliament) on 29 April, Khabar 24 reports (in Russian).
According to the changes, the head of state will now have the authority "to regulate the details of tax, budgetary, customs, banking, labour and antimonopoly legislation, as well as legislation relating to public health and the healthcare system, state procurement, and currency regulation".
"These are areas through which it is possible to exert the maximum possible influence on the economy, and (where) the need for swift decision-making arises," explained Minister of National Economy Ruslan Dalenov on Kazakh television channel KTK.
According to the TV station, the bill has now been passed to the senate for discussion.
Commenting the changes on his page on Facebook, political scientist and director of the Risk Assessment Group Dosym Satpaev wrote that the basic aim was to increase the president's emergency powers in the sphere of economic security. "But, generally, politics is the concentrated expression of economics, especially when we are talking about increased abilities, through economic instruments, to exert influence on the activities of oligarchic groups. The state of emergency is certainly a convenient tool to use to determine which of them to support and which of them to push aside," he wrote.
A nationwide state of emergency was declared in Kazakhstan in connection with the spread of the coronavirus on 16 March. The president recently extended it until 11 May.