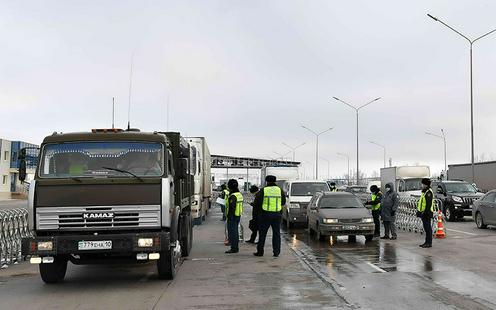 A quarantine checkpoint in Nur-Sultan. Photo from Akorda.kz
All businesses and organisations in Almaty and Nur-Sultan, regardless of ownership form, are to suspend their operations, the State Commission to Oversee the National Emergency has ordered. The decree was announced on the website of the government of Kazakhstan (in Russian).
The measure is to last between 30 March and 5 April. It does not include central government agencies, akimats (local authorities), law enforcement organs, medical organisations, the media, food stores, pharmacies and organisation performing vital social functions. A full list will be published in cooperation with the city akimats.
Already yesterday, Almaty ordered the closure of all non-food stores and points of service. Also yesterday, the State Commission introduced extensive restrictions on the movement of people in Almaty and Nur-Sultan. Starting from 28 March, residents have been ordered not to leave their homes except to buy food and medication and to travel to work. The decision was also taken to close all large public spaces, to gradually scale down the operation of public transport and to introduce a ban on the movement of unaccompanied minors.
The vast majority of Kazakhstan's 125 confirmed coronavirus cases to date have been located in Nur-Sultan and Almaty – 60 and 48 respectively (global coronavirus data sites are showing one extra case since the latest Kazakh health ministry report, so it is unclear where the 125th case has occurred). Two people have recovered, and yesterday Kazakhstan reported the first official coronavirus death in Central Asia, a woman aged 64.
Since 16 March, a state of national emergency has been in place in Kazakhstan. From 22 March, Nur-Sultan and Almaty have been completely closed for quarantine.