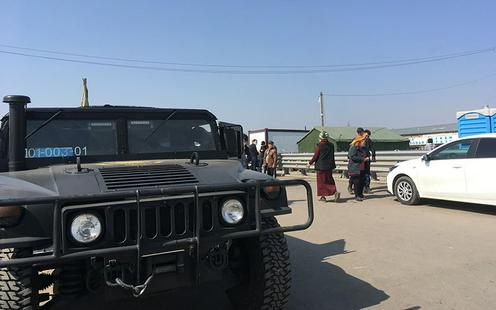 A quarantine checkpoint in Almaty . Photo by Bagdat Asylbek, Fergana
From 28 March, residents of Kazakhstan's two biggest cities, Nur-Sultan and Almaty, will be placed under full lockdown, forbidden from leaving their homes unless strictly necessary. The decision of the State Committee to Oversee the National Emergency was published this evening (26 March) on the website of the Prime Minister of Kazakhstan (in Russian).
"The State Commission has passed a decision on strengthening the quarantine regime in the cities of Nur-Sultan and Almaty through the implementation from 00:00 on 28 March of the following steps: not permitting members of the public to leave their homes except in order to purchase food products and medication and to travel to places of work; closing large public spaces (parks, squares, pedestrian streets, embankments, playgrounds and similar); gradually reducing the operation of public transport; introducing a ban on gathering in streets or other public places in groups of more than three people (excluding family members); introducing a ban on unaccompanied minors leaving their homes," the announcement states.
Nur-Sultan and Almaty have been the sites of the vast majority of Kazakhstan's 111 cases to date, with over 100 infections between them. Both cities have been in quarantine for several days already. Earlier today, the mayor of Almaty criticised local residents for not observing existing anti-virus measures and announced that all non-food stores and service sector establishments in the city would be closed with immediate effect.
In Shymkent, which has currently reported two cases, the State Commission ordered the closure of the airport, the rail and bus stations and all kindergartens. Large public spaces are also to be closed. Catering establishments will remain open only until 6 pm (with home deliveries between 6 pm and 10 pm). Public transport is to be gradually scaled down as in Nur-Sultan and Almaty.
Soon after the announcement was made, news came in of the first coronavirus fatality in Kazakhstan, and in Central Asia as a whole. The country's information minister said that more information on the incident would be released tomorrow. Earlier today, the Nur-Sultan Public Health Directorate reported that, out of the 61 COVID-19 patients in the capital, four were in a serious but stable condition. They had been diagnosed with pneumonia and breathing difficulties. Another patient had been connected to an IMV ventilator. It was also announced in Almaty that one of the patients there too has had to be connected to a ventilator.