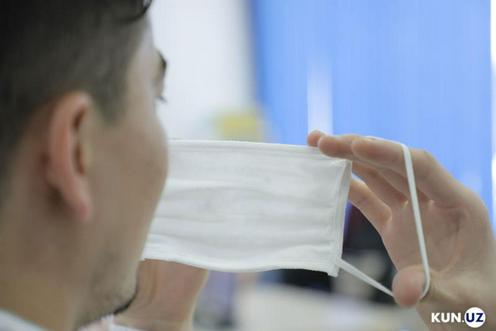 Photo from Kun.uz
The Uzbek government has made the wearing of surgical face masks obligatory in public places, Gazeta.uz writes (in Russian), citing information from the government's Special Republican Commission to Prevent the Importation and Spread of the Coronavirus. Those caught breaking the new regulation will be subject to a fine, and the fines, according to Gazeta.uz, will be collected in Tashkent, Karakalpakstan and regional capitals. Whether the measure will be applied in other towns and villages is not mentioned.
Announced on 22 March, the measure will come into effect on 23 March and fines will be applied from 25 March. A first offence comes with a fine of one base unit (223 soms, around $23) and repeat offenders will be fined three base units (669 soms).
In Uzbekistan, as elsewhere, there have been shortages of surgical face masks in connection with the spread of the COVID-19 coronavirus. At the start of March, Kun.uz reported on shortages at pharmacies in Tashkent. Uzbek textile industry association Uztekstilprom then announced that it would raise its production of masks from 500,000 to 2 million per day. The country's health ministry also removed surgical face masks from its list of products whose manufacture requires a licence.
Local authorities and businessmen have reportedly been distributing medical masks, as well as some basic food products, to poor families in several areas around the country.
Experts have repeatedly advised that medical face masks should be worn primarily by those who are already ill. As the World Health Organisation has stated, healthy people only need to wear masks when they are treating or assisting those who are sick.
The Commission has also ordered the closure of all border crossings in Uzbekistan from 23 March, exception being made only for foreign citizens wishing to leave the country. The Uzbek government had already suspended air, road and rail connections with other countries over a week ago (later ordered to last until the end of April) with the exception of foreign citizens wishing to leave the country and Uzbek citizens being repatriated by charter flights.
Businesses and organisations in Tashkent have been directed to put part of their workforce on leave and arrange work from home for as many employees as possible. Those who remain at their workplaces must wear masks.
In another major development, public transport into, out of and within the capital city Tashkent will also be suspended from 24 March, with bus services inside the city operating for medical staff only. Public transport employees will be placed on temporary unpaid leave. Taxis will still operate, but only if they have a certificate that they have been disinfected on a daily basis by the municipal sanitary authorities. The government has even introduced a temporary simplified licensing scheme for those wishing to work as private taxi drivers, with licences available within 4-5 hours of application.
It was later announced that public transport in the Qashqadaryo and Samarkand regions has been suspended too.
Following the decision to close Tashkent to public transport, the country's national airline Uzbekistan Airways announced that it is suspending all domestic flights from 24 March for an unspecified period. National rail operator Uzbekistan Railways has also cancelled its services into Tashkent.
Meanwhile, the Uzbek foreign affairs ministry has announced that the organisation of charter flights to carry foreign citizens out of the country has been delayed by three days, due to the need to quarantine flight staff after their return from corona virus-hit countries. A precise schedule for these flights will be published with sufficient advance notice.
In recent days, there have been reports of hundreds of Uzbek citizens stranded for days at airports around Russia following the suspension of air travel and not being allowed back through passport control. Charter flights have now brought many of them back to Uzbekistan.
According to the latest statistics on 23 March, Uzbekistan has 46 official cases of the COVID-19 coronavirus. Kazakhstan has 62 and Kyrgyzstan 16. Tajikistan and Turkmenistan are yet to officially report any infections.