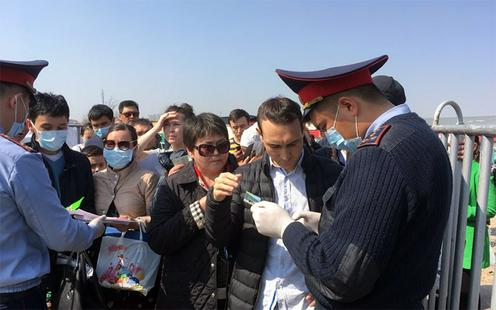 People crossing a checkpoint in Almaty. Photo by Bagdat Asylbek, Fergana
Queues of workers trying to enter Almaty formed at checkpoints into the city this morning as Kazakhstan's biggest city enters the first day of its quarantine, Fergana's correspondent at the scene reports.
According to our correspondent, those with attestation from their places of work are being allowed into the city. Those without are being told to ask their employers to send them an attestation via Whatsapp, otherwise they will not be allowed in. All individuals entering the city are having their temperatures checked. People wishing to leave Almaty are being let through without checks.
The partial lockdown on Kazakhstan's two main cities, Nur-Sultan and Almaty, came into effect at 00:00 today. At 00:00 on 22 March, both cities are to come under a full lockdown – all checkpoints are to close and air and rail connections will be suspended. International flights for Kazakh citizens wishing to return to Almaty and foreign citizens wishing to leave will still continue for the time being, but Almaty Deputy Mayor Yerlan Kojagapanov has said that these flights too were likely to be suspended at some point in the future.
Several-kilometre-long queues were reported on roads out of Almaty yesterday as people hurried to leave the city ahead of the lockdown. On Tuesday, it was announced that both Nur-Sultan and Almaty would be divided into sectors and the movement of people between different parts of the cities restricted. Yesterday, however, Kojagapanov stated that public transport in Almaty would function as normal (though at 20% reduced capacity) and that residents' movements would not be restricted.
To date, Kazakhstan has reported 44 cases of the virus – 19 in Almaty and 25 in Nur-Sultan. The country has declared a national emergency, closed its borders and shut schools around the country. All stores selling non-necessities have been closed in the capital Nur-Sultan and rationing introduced for products such as cooking oil, sugar, flour and grains.