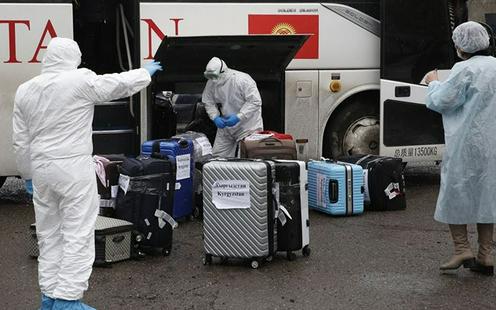 Image from TV channel Mir 24
Kyrgyzstan as introduced a temporary ban on foreign citizens entering the country in connection with the COVID-19 coronavirus pandemic, Becherniy Bishkek reports Deputy Prime Minister Altynay Omurbekova as announcing at a press conference today (in Russian).
"Many governments are currently taking this step and we too must take preventive measures. The ban will enter into force from the moment of signing the decree," Omurbekova explained. She added that foreigners currently staying in the country will still be permitted to leave as normal. In addition, Omurbekova stated, quarantine regulations will be sharpened for Kyrgyz citizens returning from countries with confirmed cases of the virus. The list of category one countries (countries from which returnees will be required to go into hospital quarantine) has been extended and the third category has been abolished – now travellers from all countries with even one confirmed case will be required to self-isolate.
Bishkek mayor's office has meanwhile passed a decree introducing a heightened state of alert in the capital. Restrictions have come into force for sporting events, cultural centres, music and art schools, municipal theatres, museums, libraries, children's art schools, children's and youth rehabilitation centres, boarding houses, municipal rehabilitation and geriatric centres and other social welfare facilities. The measures are currently planned to last until 6 April.
The decision comes after neighbouring Uzbekistan closed its borders on Sunday and Kazakhstan has restricted entry and exit to all except diplomatic staff and international delegations. Russia and the EU have of course also implemented entry bans. Kyrgyzstan has already closed all schools and universities.
The first official cases of coronavirus in Central Asia were reported in Kazakhstan on Friday. At the time of writing, 32 infections have been confirmed in Kazakhstan and 10 in Uzbekistan. Kyrgyzstan is yet to officially report any cases.