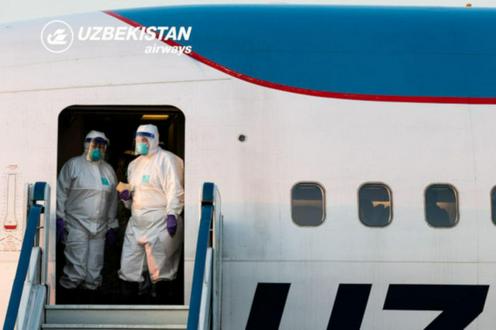 Photo by Uzbekistan Airways, from Gazeta.uz
Uzbekistan has confirmed its first case of the COVID-19 coronavirus, Kun.uz reports (in Russian), citing information from the country's Agency for Sanitary and Epidemiological Wellbeing.
The infection was discovered during a check on an Uzbek women returning from France. An epidemiological investigation and prophylactic measures are currently being undertaken, Gazeta.uz writes. People the woman has been in contact with and fellow passengers on the flight from France will be located and brought under medical observation, Uzbekistan's Chief Medical Officer Bakhrom Almatov stated.
Rumours have previously spread in Uzbekistan of other cases, but until now none of them have been confirmed. In the course of earlier prophylactic measures, 7,700 people have been placed in quarantine, with around 5,600 of them now having left quarantine.
Against the backdrop of the spread of the coronavirus in Europe, Uzbekistan has also extended the list of countries with whom flight connections are now suspended. On the 14 March, France, Spain and Great Britain were added to the list. Uzbekistan Airways later announced the cancellation of a number of its flights to India, Indonesia, Malaysia, Thailand and Israel.
On Friday, Kazakhstan became the first Central Asian country to officially confirm cases of COVID-19, after two Kazakh citizens returning from Germany tested positive for the virus. To date the country has eight confirmed cases. Kyrgyzstan, Tajikistan and Turkmenistan are yet to report any official cases.
Updated country-by-country statistics on the spread of the virus can be found here.