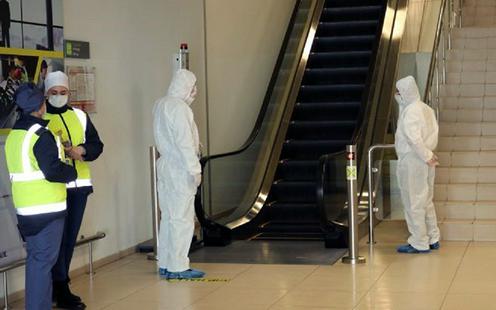 At Dushanbe airport. Photo from Asiaplustj.info
The Tajik Civil Aviation Agency has retracted its letter to airline companies running flights into the country, in which the airlines were requested not to carry citizens of 35 countries where cases of coronavirus have been confirmed into Tajikistan. The agency's new letter, a copy of which has been published by Tajik news site Asia-Plus, states that the restriction holds only for passengers travelling to Tajikistan from five countries.
"In order to avoid the spread of the coronavirus and prevent citizens of Tajikistan from being infected, we recommend that air travel tickets no longer be sold to all persons seeking to fly from China, Iran, Afghanistan, South Korea and Italy into Tajikistan," the new letter states.
There are, however, no direct flight connections between Tajikistan and South Korea and Italy, and flights to and from China, Iran and Afghanistan have already been suspended due to the coronavirus.
The Ministry of Health and Social Protection of Tajikistan stated that passengers arriving from the five named countries would in any case be placed in quarantine for 14 days.
Previously, on 29 February, the Tajik Civil Aviation Agency had directed local and foreign airline companies to halt the sale of air travel tickets to citizens from 35 countries planning to travel to Tajikistan by either direct or transit flights. The list was composed of China, Japan, South Korea, Vietnam, Singapore, Australia, Malaysia, Cambodia, the Philippines, Thailand, Nepal, Sri Lanka, India, Finland, Italy, Great Britain, Spain, Sweden, Belgium, Israel, Austria, Croatia, Switzerland, the USA, Canada, the United Arab Emirates, Egypt, Iran, Lebanon, Kuwait, Bahrain, Oman, Afghanistan, Iraq and Algeria.