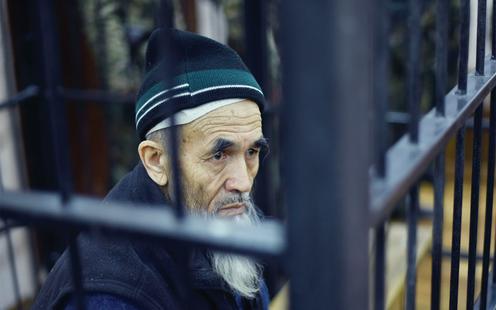 Azimjan Askarov. Archive photo from omct.org
The Supreme Court of Kyrgyzstan has postponed its review of the case involving rights advocate Azimjan Askarov, currently serving a life sentence for alleged involvement in the ethnic clashes in southern Kyrgyzstan in 2010, until 6 April, 24.kg writes (in Russian).
The court session was held in a small courtroom to which neither journalists nor rights advocates were allowed access. There was space in the courtroom for only 15 people, including Askarov's wife, Khadicha Askarova, and two of his sons. According to KaktusMedia, the session was also attended by representatives of the American, French and British embassies.
Before the session, Khadicha Askarova had expressed her hope that her husband would be allowed to go free that same day. "The whole world is waiting for his release," she emphasised. Almost immediately after the start of proceedings, however, the decision was taken to adjourn. The reason given was that the prosecution had not managed to familiarise itself with additional materials presented by the defence. Prosecutors had for some reason not been informed of the additional materials.
Earlier, Fergana and other media outlets received a statement, written by Askarov in the form of a last testament, since he feared that he would be unable to attend court. The rights advocate wrote that his guilt had not been proved. He also referred to the fact that this position is shared by the UN's Human Rights Committee. Despite this, Askarov has been in detention now for ten years. He asserted that the authorities are exerting pressure on judges in his case, stressed that he has been subjected to torture, and accused the courts of accepting false witness testimony and other infractions.
The ethnic Uzbek Azimjan Askarov was given a life sentence in 2010 following ethnic clashes in southern Kyrgyzstan. The rights advocate was convicted of organising the disturbances, inciting discord, and being involved in the murder of a police officer. Askarov's supporters claim that the case against him was fabricated by the police in retaliation for his campaign to expose human rights abuses in the law enforcement system.
Askarov has repeatedly contested the sentence without success, and has technically exhausted all of his appeals. The Supreme Court's intention to review the case was first reported on 17 January. The decision was taken on the recommendation of the UN's Human Rights Committee.