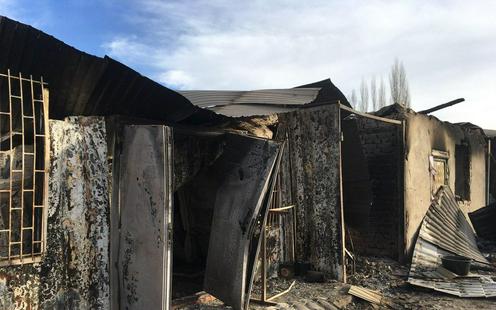 Aftermath of the disturbances in Kazakhstan. Photo by Bagdat Asylbek, Fergana
90 criminal charges have been now been filed as part of investigations into the causes and consequences of the disturbances in southern Kazakhstan's Korday district, Kazinform reports (in Russian), citing the country's deputy minister of internal affairs Marat Kojayev.
"Every day, new criminal charges are being brought. They have been filed for 11 different crimes, for murder, for rioting, for theft, armed robber and looting. Around 90 criminal charges in total, for various incidents," the internal affairs ministry official said. On 10 February, the authorities had announced that 25 criminal cases had been opened in relation to the violence.
In the course of investigations into the events in Korday district, law enforcement agencies are working to "ascertain the role of every single participant", the deputy minister stated, adding that "hundreds of individuals" have already been questioned. Asked how long investigations will continue, Kojayev replied that "time will tell". According to the Kazakh criminal procedure code, the proscribed maximum length of an investigation is two months, but this can be extended if further investigation and assessment are required, the interior ministry representative said.
On 18 February, the prosecutor-general of Kazakhstan announced that charges had been brought against three brothers from Sortobe village in Korday district. On 7 February, they had resisted police attempts to take one of them in to the local police station for driving a vehicle without the necessary documents.
A video of the Boingui brothers clashing with police officers spread quickly on Kazakh social media. On the evening of the same day, large numbers of people gathered in several villages in the Korday district inhabited by members of the country's Dungan minority and started rioting. 11 people died as a result of the violence and 170 were treated for various injuries. Over 30 residential buildings and stores suffered damage and dozens of vehicles were destroyed.
On 9 February, Kazakh president Kassym-Jomart Tokayev declared that the bloodshed had been the fault of provocateurs, aided by the acquiescence of state officials. The head of state promised to punish all responsible. It was later reported that the heads of the regional administration and the local police departments had been removed from their posts.