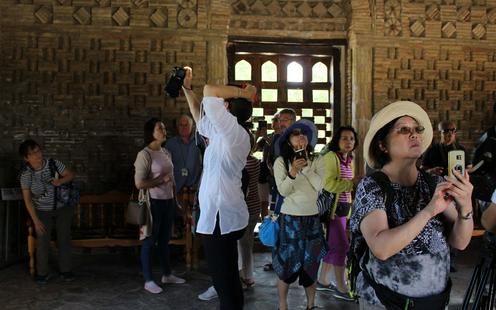 Tourists in Uzbekistan. Photo from informburo.kz
Uzbekistan has made it onto the list of the 20 countries with the fastest growing influx of tourists in 2019, The Independent reports, citing figures from the UN's World Tourism Organization (UNWTO).
In 2019, the Central Asian country was visited by 27.3% more tourists than the previous year, putting it in fourth place on the list. Besides this, Uzbekistan trailed third-placed Iran by only six tenths of a percent. In second place came Puerto Rico with a 31.2% increase, and the list was headed by Myanmar with 40.2%.The top five was rounded off by Montenegro with a 21.4% rise in tourists. 20th place was occupied by yet another country from Central Asia – Kazakhstan, with a growth of 10%.
The total number of trips abroad around the world in 2019 came to 1.5 billion, a 4% increase on the previous year. Nevertheless, the rate of growth of international tourism was lower than in 2018 (+6%) and 2017 (+7%). The lower rate of growth was attributed, among other things, to the protracted Brexit process, geopolitical and trade conflicts, the closure of a number of low-cost airlines in Europe and the collapse of Thomas Cook, one of the world's largest tour operators.
France remains the most visited country in the world, with more than 90 million tourists in 2019. It is followed by Spain, which was visited by 83.8 million people last year.
At the start of January this year, the State Committee for Tourism Development of Uzbekistan announced that 6.7 million foreign citizens visited the country in 2019, a 26% increase on the previous year's figure. The majority of foreign nationals – 81.8% – came to Uzbekistan in order to visit relatives. Only 15.5% stated the purpose of their visit to the country as tourism.