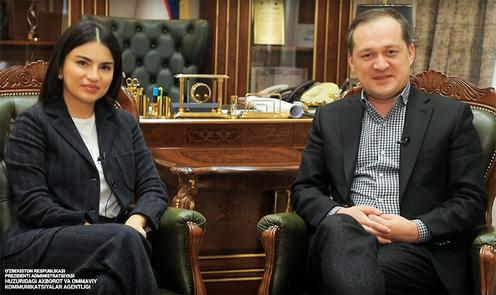 Saida Mirziyoyeva and Komil Allamjonov. Still image from a BBC video clip
Acting Director of the Uzbek Agency for Information and Mass Communications (AIMC) Komil Allamjonov and his deputy Saida Mirziyoyeva have announced their departure from the agency, it has been announced on the AIMC's official Telegram channel.
The pair motivated their decision with the desire to continue work in the non-governmental sector. At an extended meeting chaired by the head of the presidential administration Zainilobiddin Nizomiddinov, they presented a short account of their activities in office. Nizomiddin praised their contribution to the implementation of democratic reforms in the media sector, to the defence of the rights of journalists and bloggers, and to enhancing cooperation between the heads of state agencies and the media, and announced the name of the new acting director of the AIMC. The new director will be Dilshod Saidjanov, who joined the AIMC in February 2019 and has been working as Allamjonov's first deputy since October.
Saidjanov was born on 19 March 1982 in Urgench (Khorezm region). He studied at the Tashkent State Institute of Oriental Studies and the Graduate School for Strategic Analysis and Forecasting, where he specialised in the theory and history of international relations, systems analysis and prognostics. Since 2005 he has worked in the informational-ideological sphere. Between 2017 and 2018, he occupied the post of lead specialist at the Media Center of the Press Service of the President of Uzbekistan, and then worked for a year in the same position in the Uzbek Agency for Press and Information (UzAPI). He speaks Russian and English. He is married and has two children.
The new Agency of Information and Mass Communications was formed exactly one year ago on the basis of UzAPI. It was charged with establishing freedom of speech in the country and the defence of journalists, drawing up draft laws in the area of state support for the media, working on the abolition of jail terms for defamation and insult, improving Uzbekistan's image and other tasks. The agency's director is appointed and removed directly by the president of Uzbekistan and has a comparable status to that of a first deputy adviser of the head of state.
The agency was headed by the current president's former press secretary Komil Allamjanov. Later, the head of state's eldest daughter Saida Mirziyoyeva joined the agency.