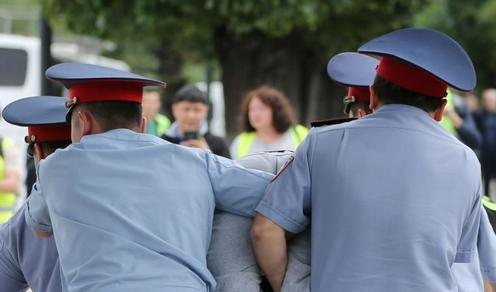 Photo from Rus.ozodi.org
In Tajikistan, criminal charges have been brought against at least 70 people arrested in various regions of the country on suspicion of membership in the Muslim Brotherhood (al-Ikhwan al-Muslimun, banned in Tajikistan and the Russian Federation), Radio Liberty's Tajik website Ozodi reports (in Russian), citing sources in the country's law enforcement agencies.
The arrest of the suspected Muslim Brotherhood members was first reported at the start of January. Mention was then made of 27 arrests. A Tajik Ministry of Internal Affairs official close to the investigation told Ozodi that now at least 70 people have been arrested and charged under article 307.3 of the country's criminal code ("Organising the activities of an extremist organisation").
Among the arrested are university lecturers, former schoolteachers and religious officials. A staff member at the Tajik Institute of Languages confirmed the arrest of five of the institute's employees. All of them were teachers of Arabic. According to the source, members of the law enforcement agencies investigating the case told staff not to speak to the press.
Several lecturers at the Tajik National University are also among the arrested.
"Yes, it's true that a number of lecturers were arrested. The figure is said to be more than ten. Mainly it is teachers from the Oriental Studies faculty. I know two of the arrested – one is Fathullo Latipov, a lecturer in literary history. I'm still in shock over his arrest. He was a hard-working and sociable guy. The second is senior lecturer Tojiddin Yakubov," one of the lecturers at the TNU told Asia-Plus.
The Muslim Brotherhood was founded in 1928 in Egypt by schoolteacher Hasan al-Banna. The goal of the organisation was stated to be the Islamisation of society and the establishment of a state based on the sharia. The movement wields significant influence in a number of Arab countries.
The Muslim Brotherhood was banned in Tajikistan by a ruling of the Supreme Court in 2006. In 2016, seven imams in the Sughd region of the country were sentenced for membership in the proscribed organisation.