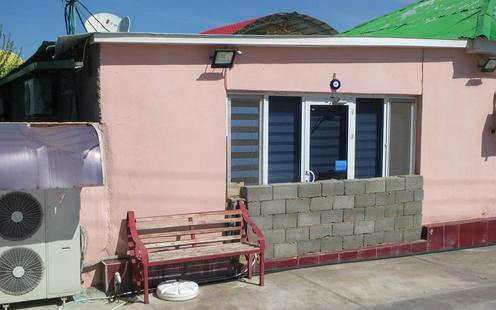 A closed-down privately-owned store in Asgabat. Photo from Hroniktam.com
In Ashgabat, privately-owned stores and other establishments subjected to mass closures over the past two years have once again begun to open, reports the news website Chronicles of Turkmenistan.
According to the website's sources, food stores, sewing workshops, beauty salons, offices offering services for special occasions and workshops for the repair of household appliances are opening for business in stand-alone buildings, in basements and in the ground floor offices of apartment blocks around the capital.
According to Chronicles of Turkmenistan, the authorities began exerting pressure on the owners of shops and other service establishments in 2018. There were periodic reports of mass closures of stores on various pretexts. Thus, in May 2019, the authorities tried to force traders to move to the business park under construction on the outskirts of Ashgabat. This despite the obvious fact that it is crucial for those engaged in the retail and service trades to have their stores in or near residential areas.
In June, the owners of basement stores in a number of neighbourhoods were forced to close under the threat of confiscation of property and the withdrawal of a licence to engage in entrepreneurial activity. It then emerged that, as a result of the loss of their premises, many hairdressers and beauty salons had switched to semi-clandestine operation in rented apartments. In August, for unknown reasons many restaurants, cafes and automobile repair shops were ordered to close. Another wave of store closures followed in September.
Store owners who were interviewed by journalists knew nothing either of the reasons for closure, or for the resumption of their activities. But they suggest that the relaxation may be somehow related to the arrest of the famous Turkmen businessman Chary Kulov and Interior Minister Isgender Mulikov who is alleged to have protected him. At the end of November, the latter was sentenced to 15 years in jail. It is also worth pointing out that in November President Gurbanguly Berdymukhamedov approved the introduction of a new procedure for registering sole traders. He emphasised that the new measures "should serve to stimulate small and medium-sized business and aim to create the necessary conditions for free enterprise and competition."