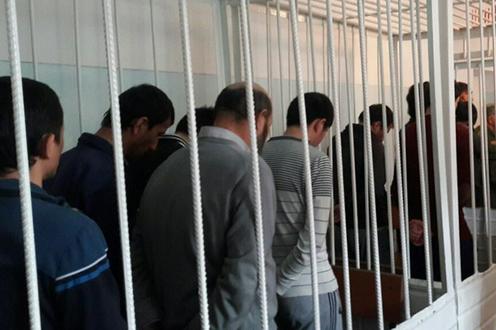 Tajiks convicted of extremist activity. Photo from Ozodi.org
Citizens of Tajikistan will henceforth have a duty to immediately notify government authorities "of any incidents that suggest the existence of preparations to carry out an act of an extremist character". This provision is included in a new law "On combatting extremism" signed by President Emomali Rahmon at the start of January, writes Asia-Plus (in Russian). The law will guarantee the protection and safety of citizens who provide assistance to the authorities in the war against extremism: information concerning their testimony will be treated as secret and divulging such information will be punishable by law.
The state authorities charged with the task of combatting extremism are the State Committee for National Security (SCNS), the Internal Affairs Ministry, the Prosecutor General's Office, the Justice Ministry, the Defence Ministry, the anti-corruption and anti-drugs authorities, the National Guard, the Customs Service, the Communications Service, the National Bank (NBT), as well as the Committee on Religious Affairs and the Committee of Youth Affairs and Sport.
The law also enjoins credit organisations in Tajikistan to refuse service to legal persons declared to be extremist organisations in the country. The National Bank will be in charge of overseeing this provision, with lists of terrorists and extremists published on its site. Whether this provision extends to natural persons included in the lists is not specified.
According to the stipulations of the new law, access to information advocating extremism on the internet or on other telecommunications platforms is to be immediately blocked or restricted. Particular mention is made of information "calling to major public disturbances, to participation in large-scale events leading to the disruption of public order". The government's Communications Service is charged with monitoring social media and other internet sites and, if deemed necessary, may restrict users' access to such sites.
Organisers of public meetings, rallies and other large-scale public events bear responsibility for any extremist activity undertaken during their course, as well as for "failing to take sufficient measures in advance to prevent them".
Experts in Tajikistan have pointed to the excessively loose definition of extremist activity included in the new law. It is, for instance, unclear what is meant by "actions designed to undermine national security". Such diffuse formulations allow the authorities to declare any dissenters extremists, including the government's opponents, says Tajik lawyer Shukhrat Kudratov.