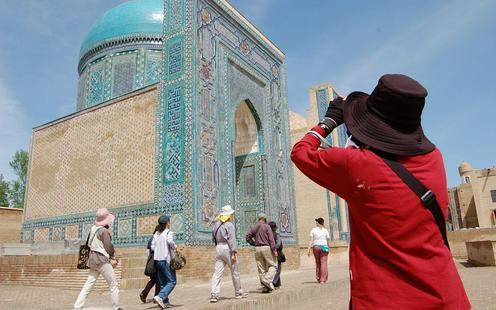 Tourists in Uzbekistan. Photo by Uzbektourism's press office
In 2019, 6,748,500 foreign citizens visited Uzbekistan, a 26% increase on the previous year, when 5,346,200 foreigners visited the country. The figures were given in the course of a briefing attended by representatives of Uzbekistan's State Committee for Tourism Development on 10 January in Tashkent.
The majority of foreign citizens – 81.8% – came to Uzbekistan to visit relatives. Only 15.5% of visitors declared that the goal of their visit was tourism. Less than 3% of visitors from abroad came to the country for healthcare, business meetings or study.
According to the State Committee for Tourism Development, 5.7 million of the visitors came from other Central Asian countries, around 496,000 from other CIS states and 488,000 from far-off countries. Top of the list were citizens from Kazakhstan, Tajikistan, Kyrgyzstan, Turkmenistan, Russia, Turkey, Afghanistan, China, South Korea and India.
The export value of tourism in 2019 was $1.3bn. The figure for 2018 was $1.04bn.
At present, 833 hotels, 214 hostels and 141 other establishments for tourist accommodation are in operation in Uzbekistan. 26 projects are currently underway to a total of $1.1bn for the construction of hotels and health and recreation complexes. In terms of hotel occupancy rates, the Bukhara region is leading the way, with a rate of almost 100%. More than 80% of available beds and rooms were also booked up in hotels and hostels in the Tashkent, Khorezm and Samarkand regions.
Tourism acquired the status of a strategic sector of the economy in Uzbekistan in December 2016. Since then more than 55 documents have been signed regulating the tourism industry. Among these have been the liberalisation of the visa regime and the simplification of procedures for entering and staying in the country for foreign citizens.