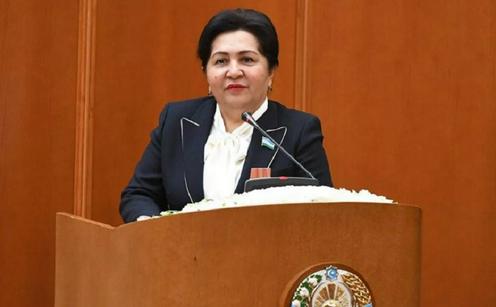 Tanzila Narbaeva . Photo from UzNews
At a recent session of the Uzbek senate, a figure was cited for the amount of money embezzled from the country's Anti-Crisis Fund to fight the COVID-19 epidemic. The story was originally reported by UzNews (in Russian) at the end of last week.
Senate chairwoman Tanzila Narbaeva stated that sanitary-epidemiological service staff in the Andijan, Bukhara, Qashqadaryo, Navoiy and Namangan regions had misappropriated a total of 1.74 billion soms ($171,400). "At a time when the head of state is trying to gather funds to ensure adequate healthcare for our people, in order to emerge from this crisis as quickly as possible and with a minimum of losses, there is no excuse for corruption," she stressed.
Narbaeva reminded her audience that she is also the head of the National Council on Combatting Corruption. The senate speaker promised that: "Now our work in the fight against corruption will be systematic, focused and, of course, uncompromising."
Uzbekistan's Anti-Crisis Fund was formed on the order of President Shavkat Mirziyoyev specially for the fight against the COVID-19 epidemic and its social and economic consequences. It is draws on both direct funding from the state budget and government-secured international loans. In June, for instance, the Asian Development Bank approved a loan of $500 million to Uzbekistan to be paid back over 15 years with a three-year grace period. In May the IMF allocated the country preferential credit to a total of $375 million.
During the same session, Tanzila Narbaeva also admitted that the government's actions in the fight against poverty are at present "rather chaotic". "We cannot say that the work of local kengash (council) deputies and senators has been satisfactory. For example, not a single deputy or senator has come forward with any proposals on the subject of public discontent in some districts following the distribution of social assistance," she said.
Meanwhile, a widespread scam involving fake doctor's appointments has been making headlines recently in Kazakhstan. Under the scheme, healthcare providers falsified records in the country's online DamiMed system in order to claim back expenses from the Social Health Insurance Fund – the centrally-run agency which pays for healthcare services provided under Kazakhstan's "guaranteed level of free medical care".
Speaking at an online briefing by the Central Communications Service (CCS) on Thursday last week, health ministry representative Bagdat Kozhakhmetov said that 13,500 such cases have been uncovered over the first six months of this year. The Social Health Insurance Fund had earlier spoken of just under 11,600 cases for the same period, to a total cost of over $180,000. "All of the money allocated from the Fund for these false claims will of course be reimbursed threefold. They will be reimbursed by the medical organisations who have committed these offences, as is stipulated in their contracts in the form of fines," Kozhakhmetov promised at the briefing.
In recent days, members of the Kazakh public have been posting screenshots on social media of their online healthcare records showing doctor's visits that never took place and tests that they have not taken. One social media user recounted how his three-year-old son has apparently been making "secret visits" to the doctor, unbeknown to his parents. Another was surprised to learn that in 2019 he had been examined by a gynaecologist.
"The highest numbers of falsifications came in the Mangystau region, the North Kazakhstan region, Almaty and some other regions. The question of specifically which medical organisation participated in this more than others I will be able to answer at a later date. In any such situation you have to look for those who stand to gain. The Ministry of Health has asked itself this question, and now a detailed official investigation and legal analysis are being carried out," Bagdat Kozhakhmetov said at Thursday's online briefing.
In another corruption story from Kazakhstan last week, the deputy head of the Housing and Communal Services Department in the West Kazakhstan region has been charged with embezzling $120,000 allocated for the reconstruction and repair of 46 residential buildings following the explosion of a military munitions warehouse in the town of Arys in June 2019. Earlier this month, Arys residents complained to state news channel Khabar 24 that their rebuilt homes were unfit to live in, saying, among other things, that there was no heating, the walls were damp, and newly-fitted ovens bellowed out smoke.
The incident last June led to all 44,000 of the town's residents being evacuated and caused four deaths and more than 400 injuries. Around 7,000 of the town's roughly 8,000 residential buildings sustained damage.