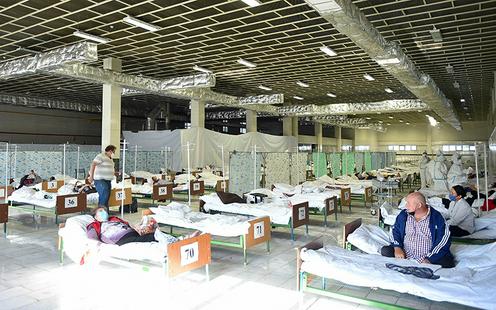 A new COVID-19 day hospital in Bishkek. Photo from gov.kg
The Kyrgyz health ministry has chosen to include pneumonia patents in the country's official coronavirus statistics, the head of the ministry's public health department, Ainura Akmatova, has announced at a press conference today, 24.kg reports (in Russian).
Like neighbouring Kazakhstan, Kyrgyzstan has experienced a wave of pneumonia cases since mid-June, following the easing of previously successful strict lockdown measures in May. Hospitals have been inundated with patients and many others have been dying in their homes after being unable to obtain medical attention. Large numbers of these patients and fatalities, however, have hitherto not been counted in the official statistics, either because PCR tests for the virus have not been able to be conducted, or because these tests are returning significant numbers false negatives – something that appears to be more likely in severe cases. Yesterday, for example, 7 people were officially recorded as having died from COVID-19. A further 29 individuals, however, died from pneumonia, an otherwise rare condition at this time of year.
A number of high-profile members of the Kyrgyz elite have fallen victim to this recent pneumonia wave. On Monday, former parliament speaker Chynybay Tursunbekov passed away from double pneumonia after testing negative for the virus. Parliamentary deputy Jyldyz Musabekova is currently said to be in intensive care with double pneumonia, former deputy Kamchybek Tashiev and his wife have both been hospitalised with the same diagnosis, while politician Baktybek Turusbekov is recovering at home with a milder form of the same complaint. Former president Almazbek Atambaev was of course hospitalised with double pneumonia last week. A number of other politicians have also received positive COVID-19 test results, including Deputy PM Erkin Asrandiev, Bishkek mayor Aziz Surakmatov, and Onuguu-Progress leader Bakyt Torobaev.
The Kyrgyz health ministry has previously argued that it is "not right" to include people without positive test results in national coronavirus statistics. Prime Minister Kubatbek Boronov, however, has earlier tacitly acknowledged that the surge in pneumonia cases is due to the coronavirus, and yesterday he did this explicitly.
At the press conference today, Akmatova stated that, given the sharp rise in cases of community-acquired pneumonia since 20 June, uniting statistics on pneumonia and COVID-19 was necessary in order to ensure swift help is provided to patients without waiting for the results of a coronavirus test.
The earlier decision not to include pneumonia cases together with COVID-19 has previously been widely criticised by both medical professionals and others. Yesterday, parliamentary deputy Elvira Surabaldieva condemned the health ministry for running two sets of statistics. "Why are you separating COVID-19 deaths from pneumonia deaths? Community-acquired pneumonia is itself a complication arising from COVID-19," Surabaldieva said angrily. The fact that pneumonia deaths are not being included in coronavirus statistic, she argued (following others), has meant that relatives of the deceased are conducting normal traditional funeral ceremonies for them, including ablutions and large gatherings of people. This in turn facilitates the spread of the virus, especially among the older generation. "Your bureaucracy has already buried not a small number of our fellow citizens," the deputy exclaimed at the end, in reference to widespread instances of pneumonia patients being turned away from overfull hospitals, "Please do not risk the lives of those who are left."
The sharp rise in pneumonia cases over the last two or three weeks has taken the Kyrgyz health system by surprise and the authorities are now working quickly to make up the deficit in hospital space, equipment and personnel. Emergency hospital capacity has been increased in Bishkek (including four new "day hospitals" for mild and moderate pneumonia cases) and a new field hospital in Osh. Large deliveries of oxygen concentrators have also been secured from Turkey and China. Medics from the regions have been drafted in to make up for the shortfall of staff in Bishkek, and numbers of emergency hotline workers have been ramped up (a common complaint over recent weeks has been problems – sometimes for days at a time – with even getting through to request medical assistance).
Many, however, are questioning what the Kyrgyz authorities did with the time they won through initially-successful lockdown measures between March and May. "When I remember the government's words 'we are ready for anything', I am deeply disappointed," one young man who recently lost his 26-year-old sister to pneumonia after the family struggled to get her admitted to hospital told RFE/RL. "They said they had been preparing since the winter. In reality I haven't seen any evidence of this."
At the press conference today, Prime Minister Boronov tried to respond to such complaints: "We did make plans, we did prepare. It's not even a question of money. At the request of state agencies, funds were allocated from the budget. But we didn't have time to buy all the necessary equipment. In two or three months it is not possible to solve problems in the healthcare system that have accumulated over 30 years. If we had bought oxygen concentrators a week earlier then maybe the situation would not have deteriorated like it did. Over the last two days, we can see that the turmoil has died down."