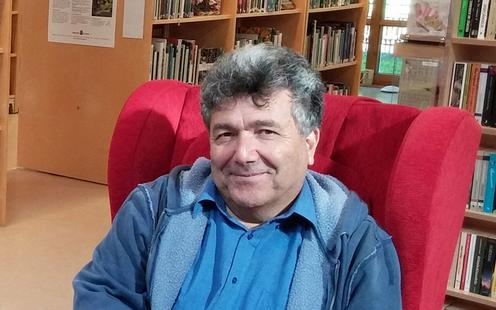 Ak Welsapar . Photo from Hronikatm.com
Turkmen dissident writer Ak Welsapar (also known as Akmukhammet Velsaparov) has refuted rumours of his death from the COVID-19 coronavirus, Chronicles of Turkmenistan writes (in Russian).
News of the demise of the dissident poet and novelist, who currently resides in Sweden, was published on the pro-government news website Gundogar on 4 April. Citing relatives of Welsapar, the website claimed that the writer had been admitted to hospital on 31 March with double pneumonia. A photograph of what was alleged to be his death certificate was printed with the article.
The following day, the same outlet repeated the story, citing another exiled Turkmen opposition figure, Maksat Saparmuratov in apparent confirmation. Confusingly, a screenshot of a social media post by Saparmuratov denouncing the rumours as a fake was also appended to the story.
Now Welsapar himself has told Chronicles of Turkmenistan that at the start of April he had been travelling outside of Sweden. While he was away, he fell ill and took a test for COVID-19. This information found its way into the hands of his detractors and was then greatly exaggerated. Meanwhile, Welsapar had already returned to work on 7 April.
The exact motives for the fake story, Welsapar says are unclear. "Perhaps it is revenge for our publishing news of (Turkmen president Gurbanguly) Berdymukhamedov's death last year from kidney failure (Welsapar's YouTube channel Erkin Turkmenistan (Free Turkmenistan) was named at the time as the source of these rumours — Fergana). But it could also be revenge for my current activity on my YouTube channel, where since February I have been criticising the country's government for hiding the scale of the spread of the coronavirus in Turkmenistan and cases of coronavirus deaths," the opposition figure said.
Ak Welsapar was born in 1956 in the Mary region of the Turkmen Soviet Socialist Republic. In 1979 he graduated from Lomonosov Moscow State University's journalism faculty and studied higher literary courses at Moscow's Gorki Literature Institute between 1987 and 1989. Even before the fall of the Soviet Union, Welsapar took up controversial topics (such as infant mortality and the problems of cotton monoculture) in his texts and articles. In 1993 he was expelled from the Writers' Union and the Journalists' Union in Turkmenistan, following which he was forced to move to Moscow. In 1995 he emigrated to Sweden and a year later became a member of the Swedish Writers' Union.
His most famous novel, Cobra (2003) is a satirical allegory of the reign of Turkmenistan's former president Saparmurat Niyazov and has been described by one critic as "a great read for anyone interested in the psychology of despots". An English translation of Cobra still appears to be in progress, but later works The Tale of Aypi and The Revenge of the Foxes are available in English.