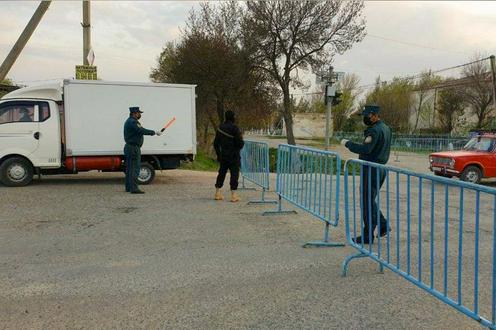 Photo from Yhxbb.uz
Uzbekistan has banned private vehicle travel in Tashkent, Nukus and all regional capitals, days after suspending public transport in a number of major towns and cities. According to a Telegram announcement by the country's health ministry (in Russian), between 06:00 on 30 March and 20 April, people will only be allowed to drive their vehicles if they display a special permit. A later announcement (in Uzbek) clarified that the ban holds for Tashkent, Nukus and all regional centres, as well as for travel between the country's regions.
Exceptions are made for a number of groups, including businesses delivering food or medicines (and workers travelling to these enterprises), pharmacy workers, diplomatic staff, and others. Those requiring urgent medical care (such as for childbirth, serious injury etc.) are also exempted. All other vehicle journeys require special permission from the justice ministry.
Immediately after the announcement was made on the morning of 29 March, queues formed outside justice ministry offices where these permits are issued, Fergana's correspondent in Tashkent reports. The government's online permit-issuing service began warning users of possible disruption to the service owing to high demand.
Crowds also gathered in marketplaces and queues formed at supermarkets as people rushed to fill their cars with groceries ahead of the ban. Some store owners raised prices for popular items such as meat, potatoes and onions, justifying the move by claiming that they would no longer be receiving deliveries of agricultural produce during the quarantine. The Uzbek interior ministry was forced to respond by refuting these claims and calling on people to act in a "balanced and sensible" manner. "Panic-buying and large crowds at markets and in supermarkets will only exacerbate the spread of the coronavirus," the interior ministry noted, somewhat despairingly.
In other coronavirus news from Uzbekistan today, China has sent the country 20 tons of medical supplies, including face masks, gloves and thermal imagers. This is not the first time Uzbekistan has received coronavirus aid from China. Yesterday, it was announced that Uzbekistan (along with Kazakhstan and Kyrgyzstan) is one of seven additional countries to which Alibaba founder Jack Ma will be donating a total of two million masks, 165 test systems and protective equipment. Previously, Uzbekistan had received more than eight million tons of medical supplies from the UAE. The country has also previously received test kits from Russia, and protective equipment from the USA (10,000 masks, 1,400 medical gowns and 600 full sets of PPE). Before the start of the outbreak in Uzbekistan, the Uzbek government itself sent medical supplies to both China and Iran.
Finally, like many parts of the world at present, Uzbekistan is seeing a surge in demand for food delivery staff. Uzbek food delivery companies are offering around $210 dollars a month to prospective employees.
According to the latest information on 30 March, Uzbekistan has 149 cases of the COVID-19 coronavirus, with international coronavirus monitoring sites reporting 2 deaths. Kazakhstan has 294 cases, and Kyrgyzstan 94.