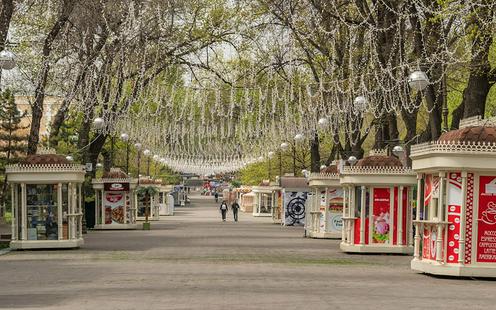 An empty pedestrian street in Tashkent. Photo by Andrey Kudryashov, Fergana
The Uzbek government has banned gatherings of more than three people in public places, excluding members of the same family, while requiring them to observe a safety distance of at least two metres. The decision was taken by a special national commission to draw up preventive measures against the spread of the coronavirus and announced on the government's coronavirus info Telegram channel Koronavirus Info (in Russian).
The population has also been ordered not to leave their homes unless strictly necessary. People may only venture outside to buy food and medication. This restriction does not cover state employees and NGO workers during the performance of their duties. In addition, all who leave their homes must wear medical face masks. Those who do not do so will be fined 1.1 million Uzbek soms ($117).
In order to reduce the risk of COVID-19 infections as far as possible among the elderly, Khalq Bank vice president Khasan Akhmedov has said that pensions and benefits will be distributed directly to recipients' homes. Mobile bank staff will be provided with medical masks, gloves and disinfectants. The cash they hand out will be sterilised.
Uzbeks failing to wear face masks in public have been subject to fines since 25 March. The authorities have also increased penalties for quarantine violations. If the actions of someone found guilty of violating sanitary legislation or anti-epidemic regulations lead to a coronavirus death, they can be jailed for up to ten years.
According to information from the Uzbek National Guard, since 26 March, 3,327 instances of non-compliance with quarantine measures have been recorded. All offenders were arrested and taken in to their local police stations. Administrative charges were filed against 3,324 of those involved, and three individuals were charged with criminal offences.
Earlier, the chief imam of Tashkent, Nuriddin Kholiqnazarov declared that members of the public who do not wear face masks should be considered traitors – traitors to their families and to their homeland.
The first official case of coronavirus infection was reported on 15 March. The country closed its borders and shut down all schools, universities, cinemas, bars, children's play centres and non-food markets. Friday prayers in mosques were suspended. On 27 March, all forms of transport between different regions of the country were banned, apart from goods lorries. Restrictions have also been placed on the movement of cars and buses within cities and non-urban districts.
First Tashkent, and then Samarkand, Namangan, Andijan, Guliston, Bukhara, Navoiy and Zarafshan, and the towns of Almalyk and Bekabad in the Tashkent region have all been placed under quarantine, with restrictions on entry and exit and public transport suspended.
According to the latest information on 27 March, Uzbekistan currently has 83 confirmed cases of the COVID-19 coronavirus. 23 of the patients are Uzbek citizens who have returned from France, Russia, Switzerland, Saudi Arabia, Turkey and the UAE. The majority of the remainder are people who have direct links to these individuals, but on 24 March the chief medical officer of Uzbekistan announced the country's first confirmed case of community spread. International coronavirus data sites such as Worldometer.info