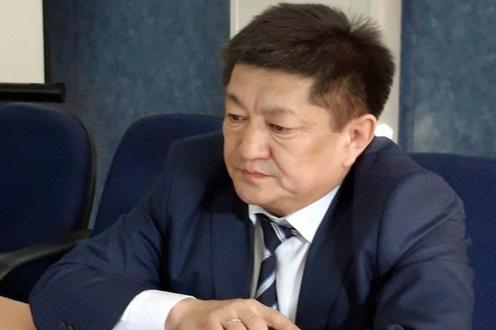 Kyrgyz health minister Kosmosbek Cholponbayev. Photo from Akipress.org
Three cases of coronavirus have been confirmed in Kyrgyzstan, the first official cases of the virus in the country. The announcement was made at a government press conference today, Vesti.kg reports (in Russian).
Health Minister Kosmosbek Cholponbayev stated that the infected individuals were all male residents of the Suzak district of the country's southern Jalalabad region, who recently returned from completing an umrah (lesser hajj) in Saudi Arabia. The men – 70, 62, and 46 years old – are said to be in a satisfactory condition, 24.kg reports. They flew into the country on 12 March, before the introduction of quarantining for travellers from Saudi Arabia, but due to the risk of infection during the pilgrimage, the health ministry later sent doctors to their homes to test them. Work is now being undertaken to track down all other passengers on board their flight. Their home villages have been placed under quarantine and a state of emergency declared across the whole district.
Even before the announcement of any official cases of the COVID-19 coronavirus in Kyrgyzstan, the Kyrgyz government introduced strict measures to prevent the spread of the virus. Yesterday, the country banned entry to all foreign citizens. Schools and universities have also been closed nationwide and heavy restrictions placed on the operations of leisure facilities and many social institutions in the capital Bishkek.