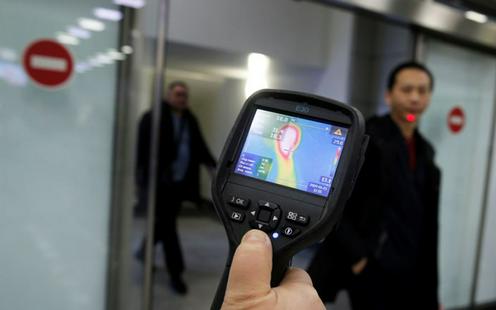 Thermal screening at Almaty airport . Photo from Azattyq.org
As of 19:30 local time on 17 March, the number of coronavirus cases in Kazakhstan has risen to 32, up from 10 yesterday, according to Worldometer.info. The majority of the new cases have come in the capital, Nur-Sultan, according to an earlier announcement by the country's health minister on Facebook (in Russian).
No further information on the new patients was provided, so it is currently unclear if all of the country's known cases are still individuals who have recently arrived from abroad and people they have been in close contact with, or whether there have been any instances of community spread. Health Ministry representative Diyas Akhmetsharip told Fergana that among the new cases was a 2-year-old girl who had arrived from Berlin on 12 March.
It has also been reported that the authorities in Kazakhstan have brought criminal charges against one of the country's existing cases, a woman who police say has "by all means sought to hinder the work of the sanitary services and deliberately refused to provide the names and details of even those individuals with whom she has come into contact since falling ill".
Meanwhile, the number of reported cases in Uzbekistan has risen to 11. So far, all reported cases have been from travellers returning from Paris, London, Istanbul and Dubai, or their close relatives. All are said to be in a satisfactory condition.
At present, Kazakhstan and Uzbekistan are the only countries in Central Asia to officially report cases of the COVID-19 coronavirus. Uzbekistan has closed its borders and Kazakhstan has declared a state of emergency. Kyrgyzstan also announced today that it was barring entry to all foreign citizens.