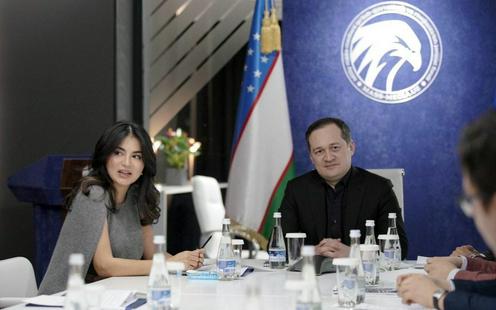 Saida Mirziyoyeva and Komil Allamjonov. Photo from Telegram channel @massmediauz
Former acting director of the Uzbek Agency of Information and Mass Communications (AIMC) Komil Allamjonov has been selected to chair the board of trustees of the Public Fund for the Support and Development of National Mass Media. As previously at the AIMC, his deputy will be Saida Mirziyoyeva, the NGO announced on its Telegram channel.
The Fund's board of trustees was set up on 31 January at a meeting of the organisation's founders. The composition of the board was also determined at the meeting.
The Public Fund for the Support and Development of National Mass Media was registered by the Ministry of Justice of Uzbekistan as a non-profit NGO on 22 January. As representatives of the Fund explained to Fergana, the organisation is "an NGO, with no government stake, set up by a group of young journalists, bloggers and PR and marketing specialists". The NGO's mission is to promote a level playing field in the media landscape and to defend the rights of media outlets and individual journalists and bloggers and provide comprehensive support for them. The Fund pledges to organise regular training seminars to raise journalists', bloggers' and press secretaries' competencies, to draw up proposals to enhance legislation in the spheres of freedom of speech and the media, and to attract grants for the country's mass media.
Allamjonov and Mirziyoyeva resigned from their positions at the head of the AIMC on 29 January. They motivated their decision with the desire to continue their work in the private sector. Dilshod Saidjanov, Allamjonov's first deputy at the AIMC, was appointed to the post of acting director of the agency.