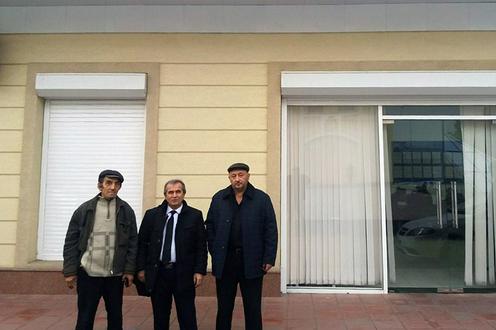 Members of the Erk Party at the Uzbek justice ministry building. Photo from Ozodlik.org
Uzbek Justice Minister Ruslanbek Davletov conducted a meeting with the leadership of the opposition Erk (Liberty) Party on 10 January, reports Radio Liberty's Uzbek site Ozodlik (in Russian).
The meeting was attended by the party's general secretary Otanazar Oripov and members of the organisation's central committee Agzam Turgunov, Salavot Umrzakov, Hamidullo Nurmatov and Sanjarali Imamov. According to Turgunov, the minister listened attentively to the opposition figures' opinions, but then suggested that they forget about their party, as "it belongs to the past".
"The statutes of the democratic Erk party were registered by the Ministry of Justice on 3 September 1991. To date, no court decision or any other document ordering the closure or liquidation of the party exists. As a result of this, we asked the minister to allow the party to pursue its activity in the country. But the minister argued instead that the 1991 document was no longer valid," Turgunov recounted.
He remained satisfied with the meeting, however. "The important thing is that a dialogue between the opposition and the government has begun. I fully support this dialogue. The last time an Uzbek justice minister met with the Erk Party leadership was in 1997," the opposition politician pointed out.
Talks between the Erk leadership and the justice minister were held following Uzbek President Shavkat Mirziyoyev's announcement that he would permit the existence of an opposition, but that such an opposition should in his opinion come from inside the country. "On social media, people are discussing the opposition. What good has this opposition done? As president, I am not against there being an opposition, but we have to create conditions so that it appears among us here in the country, so that it is composed of people who are aware of the problems of the people of Uzbekistan, who have experienced these problems themselves, who have drunk Uzbek water and eaten Uzbek bread," the president declared, emphasising that he would not allow the presence of an opposition that has been imported from abroad.
According to Ozodlik, not long before Davletova's meeting with the Erk leadership, Justice Ministry representatives also met with members of the Birlik (Unity) movement, though details of these talks were not provided.
The Birlik movement and the Erk Party appeared in Uzbekistan at the end of the 1980s. Behind the formation of both organisations stood the famous Uzbek poet Muhammad Salih. He was Islam Karimov's main contender in the first presidential elections in the country in 1991. He was later subjected to state persecution and was forced to leave Uzbekistan.