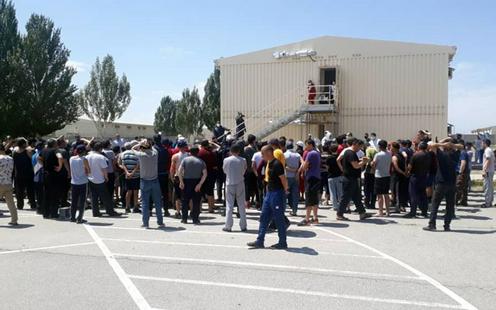 Angry residents at the quarantine facility on the former US military base. Photo from Azattyk.org
Kyrgyz nationals being kept in quarantine at the former US military base by Manas airport staged a riot yesterday, attacking medical staff and attempting to overturn an ambulance. One ambulance worker was injured in the attack. The details were reported by the Kyrgyz news outlets Vesti.kg and Kaktus.Media (in Russian).
Kyrgyz health ministry representatives told journalists that residents of the quarantine camp had already earlier behaved aggressively. Doctors at the camp had been attacked, and on 7 May Kyrgyz nationals who had arrived from Sol-Iletsk in Russia's Orenburg oblast had attempted to escape.
Deputy Health Minister Nurbolot Usenbaev told 24.Kg that it was arrivals from Sol-Iletsk who were again involved in yesterday's disturbances, adding that they had "acted like savages".
When the ambulance arrived at the base to take a number of ill patients to hospital, it was reportedly surrounded by a crowd who prevented the patients from boarding. The driver and paramedic were dragged out of the vehicle and the latter was struck several times in the stomach. When the pair managed to lock themselves back in the ambulance, the crowd started rocking the vehicle and, as it drove away, showered it with stones.
The interior ministry later stated that residents at the quarantine camp were angry after hearing false reports that patients infected with COVID-19 were being allowed to go into home quarantine while those who were uninfected were forced to stay. In fact, the situation was almost the reverse – residents with confirmed infections were being transported to hospital and those with negative test results were later released into home quarantine.
A further 43 quarantine camp residents, however, tested positive for the virus around this time, which the authorities are ascribing to the rioting and accompanying failure to follow safety regulations and social distancing rules.
The former US military base near Manas airport served as a transit centre for US troops during the war in Afghanistan between 2001 and its closure in 2014. Since the start of the COVID-19 pandemic, it has been used as a quarantine facility for people entering Kyrgyzstan from abroad (which since the suspension of regular air travel has been only Kyrgyz nationals returning on specially-arranged charter flights). Conditions at the facility have been the subject of a number of complaints (including videos), as well as a generally more positive photo report by a Bishkek-based US photographer who spent some time there.